This is part of the Blockstream Satellite Kit setup guide.
Before starting the Blockstream Satellite Pro Kit setup process, you should make sure that you have all the required components available, as shown below.
Some components are not included with the kit and will need to be purchased online or from your local hardware store.
Required Components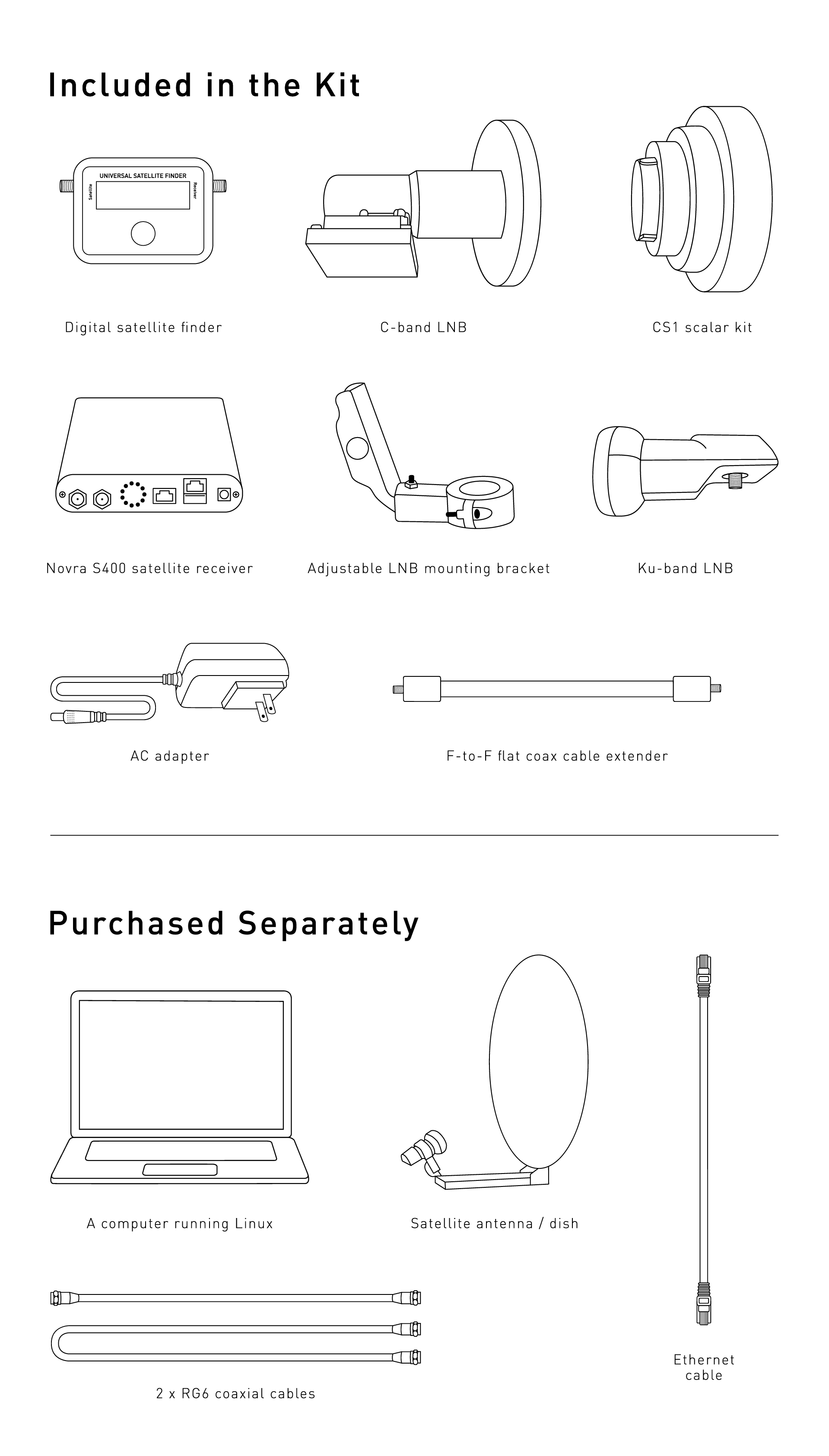 Included with the Pro Kit
Ku-band LNB
C-band LNB
CS1 scalar kit
Novra S400 satellite receiver
F-to-F flat coax cable extender
Adjustable LNB mounting bracket
Digital satellite finder
AC adapter
Purchased Separately
Satellite antenna/dish: We recommend purchasing the Flat Panel Antenna, available on the Blockstream Store (Asia Pacific users should contact us first to confirm compatibility). However, any TV satellite dish with a minimum diameter of 60cm will work with the kit.
A computer running Linux: Most mid-range laptops from the last five years will meet the minimum specifications required to run the Blockstream Satellite software. We recommend Ubuntu for the easiest setup.
1x short RG6 cable: The cable should be long enough to connect the satellite finder to the satellite antenna during antenna alignment. Normally around one meter will be sufficient.
1x long RG6 cable: The cable should be long enough to reach from the satellite antenna to the satellite receiver. For example, if you are installing the satellite antenna on a roof and your receiver is held in an indoor office, you will probably need a 10-30m cable to cover the distance.
1x Ethernet cable: The cable should be long enough to reach from the satellite receiver to either your computer or your router.
1x Ethernet port or adapter: For this guide, you will need an Ethernet port on your computer or a USB Ethernet adapter.
Note: With an advanced setup, you can instead connect the satellite receiver to your router and share the Bitcoin blockchain data over wifi. We'll have a separate guide for this soon.
Next Steps
After confirming that you have all components prepared, you will need to install the Blockstream Satellite utility. assemble the LNB, or if you are using the Flat Panel Antenna, you can instead go directly to setting up the Pro Kit satellite receiver.