The Liquid Network is a Bitcoin sidechain, which means that bitcoins (BTC) can be transferred from the Bitcoin mainchain to the Liquid sidechain ("peg-in") and back again ("peg-out").
BTC transferred to the sidechain are known as Liquid Bitcoins (L-BTC) and operate on a different security model to BTC on the mainchain.
The number of L-BTC on the Liquid Network always verifiably matches the number of BTC locked on the mainchain one-to-one.
How Peg-Outs Work
Only Liquid Federation members can initiate a peg-out. The peg-out process involves burning (destroying) L-BTC held by the member on the sidechain to release an equal amount of BTC locked on the mainchain.
A peg-out requires two confirmations on the Liquid sidechain, after which the BTC can be sent from the Liquid Federation's mainchain multisig wallet to a whitelisted address held by the federation member performing the peg-out. The Liquid Federation's wallet processes these peg-out transactions in batches on a regular basis (variable 20-60 minute intervals).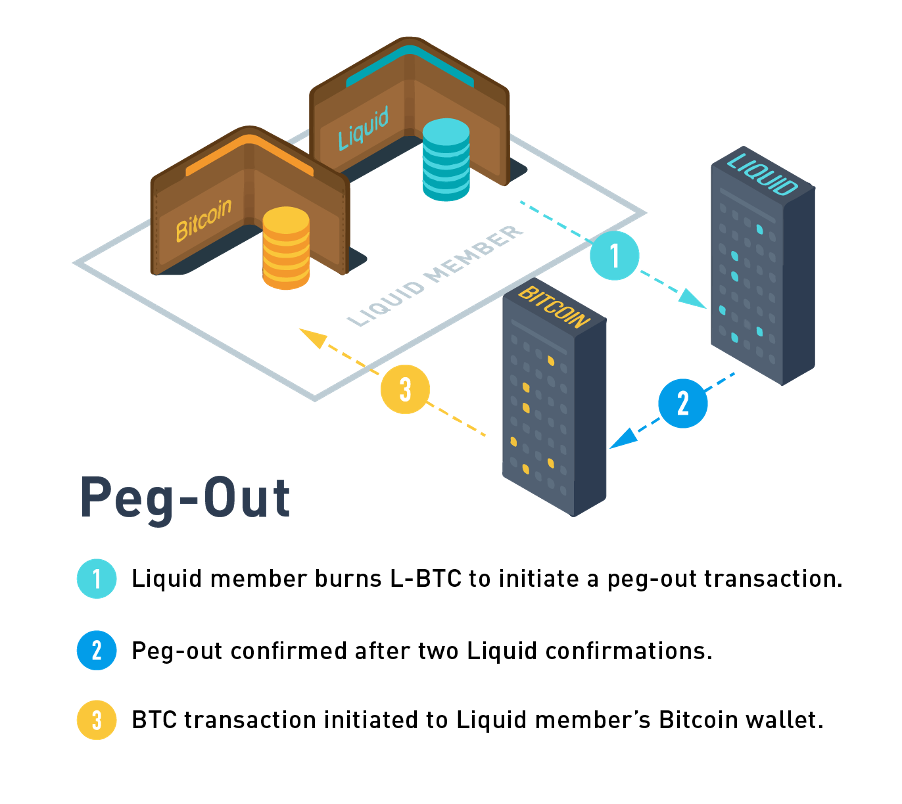 Whitelisted addresses are used as a failsafe to ensure that the federation always remains in full control of the BTC held by the Liquid Network.
Alternatives to Peg-Outs
While only Liquid Federation members can perform a peg-out, there are many alternative ways to convert L-BTC to BTC, for example, converting through a Liquid Federation member or swapping L-BTC for BTC with another Liquid user.
Peg-Ins
Anyone can perform a peg-in with a Liquid node. The peg-in process involves sending BTC over the Bitcoin network to a peg-in address that is controlled by the Liquid Federation, which allows the user to claim L-BTC on the Liquid sidechain after a long waiting period.